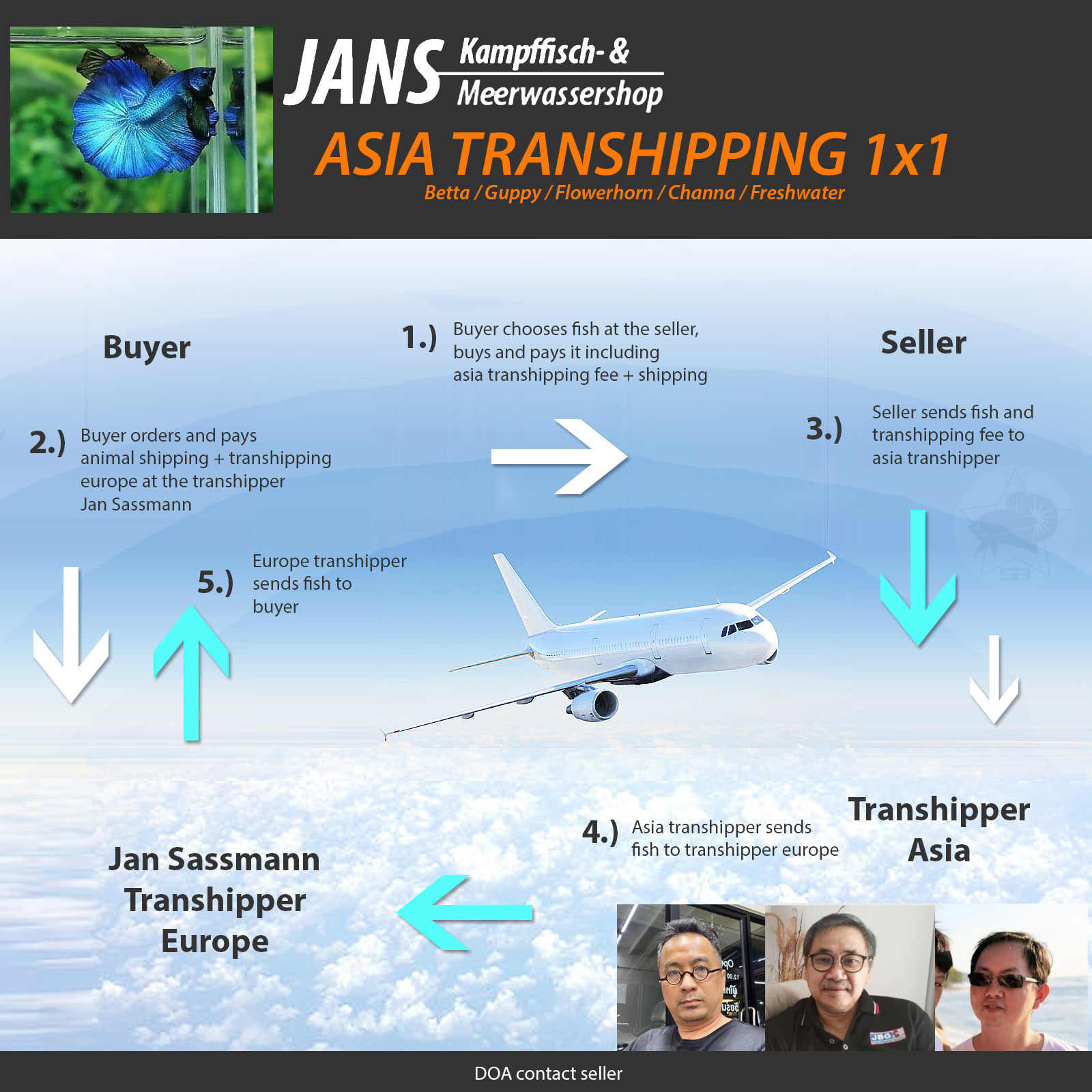 Transshipping - Info
Transshipping Rules
1. The Buyer of the fish must contact us before the Importdate by email or directly with order the handling and shipping in our shop at www.betta24.de.
Otherwise above placed orders has more priority, and it goes to delay.
2. The seller has the responsibility for the health and condition of the animals
3. We dont repack the fishbags. (flowerhorns will be rapacked)
4. We dont send out the fish before the temperature outside our place goes over 10°C
5. We pack all fish in Winter with Thermobag, Heatpack (only 1), Foambox and Paper
6. If fishs arrives dead you must clear with the seller and we must take again the money for handling and shipping
7. If you do not confirm to this rules fish stay here for pick up
Costs for Transhipping at direct orders from Aquabid.com and Facebook

1 : Buy on www.aquabid.com or from every other connection in Thailand or Indonesia your Bettas, Flowerhorn or Guppy from the breeder or differnet breeders of your choice.

2 : Pay your Bettas by
Paypal
Bank to Bank
Western Union
directly to the breeder .

Most of the breeders take a fee for transportation to Germany is required ($ 5 per fish).
It is not including handling and shipping to send to your door!!!

3 : The breeder will take care of the next opportunity , the fish legally get away with Jan's Kampffisch- und Meerwasser-Shop to export to Germany .

4 : Please buy here in our shop www.betta24.de the article Handling once for each fish for:
customs
veterinary
fuel

5 : We drive to the airport and look for the clearance of customs and veterinary.

The current prices please refer from shipping and returns. The following options for pickup / shipping are available to you:
Pick up at the Shippingdate after arrangement, Frankfurt am Main airport.
Pickup in Kreuztal, after arrangement with us, on Shippingdate and max. 7 days after that.
Pick-up on any upcoming shows in which we participate! (after arrangement)
Shipping by United Parcels Service per overnight to your door.
There are also single females and males available.
For more information contact us by email: Janskampffische@aol.com